TOP 8 ONLINE BOOKSTORES IN NIGERIA
Books have become the gold of this millennium. They're the treasures in which hidden riches are found. Through books, you can decode, learn and understand the pathway the successful individuals in the world today took to get to where they are.
The truth is that, if you're not reading, even if you're growing and making success, your growth will be limited. You won't be able to exude your full potential. And this is true because books make you see things from the perspective of others. Books teach you how to do things differently, which can improve your productivity.
In case you're wondering, 'Are you trying to say that books are only for instructions and for career and business growth?' No. We read books for many other reasons, and I covered some of those reasons here.
Interestingly, an average book goes through a lot of stages before it gets published. The writing stage is the first. This involves the process of draft creation and the writing itself.
Sometimes, when an individual intends to write a book but is unable to due to some important reasons, they engage the help of a ghostwriter who is capable of delivering a quality job to aid and fast-track the writing process.
Then comes editing, fact-checking, publishing and marketing, none of which is a walk in the park.
Considering the amount of time and effort it requires to get a book done, it is essential that it gets to the front of the readers, being the consumers the book is intended for.
Now as the consumer, whatever reason drives you to read, I'm sure you're aware that today, the internet has made buying books so much easier. You don't need to step out of your house to own a book anymore, either softcopy (epub, kobo, nook, etc) or hardcopy materials.  
But even with that, to place an order for a book online, you need to put some things into consideration such as location/delivery (particularly for hardcopies), price and quality. Buying a softcopy on Amazon might be easy, but buying a paperback (or hardback) on Amazon and paying double the purchase price for shipping won't do you any good if you can get the same book here in Nigeria.
If you've been thinking of getting books in Nigeria but don't know where to turn to, search no more. This article is written for you. I have collated the top eight online bookstores in Nigeria where you can shop without any fear of losing your money to the hand of online fraudsters. This article will guide you on which bookstore can suit your need best at a particular time.
#1 Roving Heights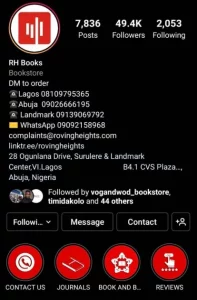 Roving Heights was founded by Adedotun Eyinade, a business development enthusiast; Oluwatobi Eyinade, a 2019 Lagos TEDx speaker; and Adebola Eyinade, a digital Innovator.
Judging from the founders' names, you must have noticed that the trio are siblings, proving Deepak Chopra's words true that, 'If you want to do really important…and big things in life, you can't do anything by yourself. And your best teams are your friends and your siblings.'
Roving Heights has been in the book business since 2015. They have all genres of books including fiction, memoirs, self-help, business books, children's books and poetry.
They can be found here.
#2 Spine & Label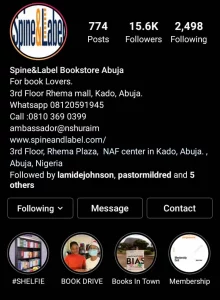 Spine and Label deals in books and other accessories such as school supplies for students (t-shirts, bags, stationery, water-bottle, lunch packs, etc). They have books of different genres in their store, including 'new and upcoming release for every season.' They also sell art, writing, drawing and painting materials such as crayons, markers, paints, clay and chalks.
If you're looking for books that revolve around creativity, art, craft, journals and enhancement of your creative abilities, you're sure to get them at Spine and Label.
#3 The 1k Bookstore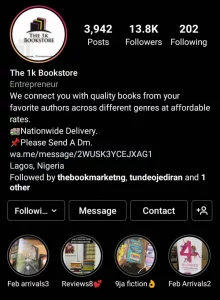 The 1k Bookstore sells books of different categories meant 'for adults and children of varying age groups.' These include genres such as fantasy, thrillers, horror, classics, romance and young adults.
Based on their name, the 1k Bookstore finds joy in making sure that books are accessible to everyone no matter their economic status. Hence, you can find in their store, books as low as N1000.
#4 The BookMarket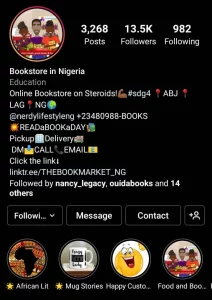 According to the info on their About Us page, 'The BookMarketng is a hub for books, literary enthusiasts, advocacy and propagator of education in Nigeria and the world.'
When you buy books from them, it is believed that you're joining a community of readers who are also interested in the books you're interested in, a pleasant way to know that you're not alone in the world when it comes to books.
Being one of the leading bookstores in the country, The BookMarket is a modern bookstore that has found a way to bring reading close to everyone by introducing bookstores in restaurants. Currently, they have four 'Books and Food' joints in the country and are working on extending these joints to other cities.
Their bookshelf is decked with books authored by people of different colors and races. Are you looking for books that treat specific subjects about Africa? They have such books. Do you need books written by authors from other countries aside from Africa, they're in the bookmarket's store.
Another thing that will encourage you to visit The BookMarket every time you need to shop for books is the user-friendliness of their website, especially, the manner in which they categorise and arrange their products. The items are listed in an alphabetical order based on genres and categories such as medical, essays, dance, cultural, entertainment, feminism, finance, friendship, health, humour, LGBT, mystery, among others.
This kind of listing makes it easier for you to locate any kind of book you're looking for without having to sift through all the books on their platform before you can find your choice.
Interestingly, the BookMarket has an active blog that's regularly updated with articles that are not only about books, but also about life and topics that may interest you. It's a way to make sure that as a customer, you're always fed with information that may be needful for you whether you currently have a book you're reading or not.
But I tell you, there's still more to what The BookMarket has to offer you, whether you've bought any book from them or not. They have an initiative that allows 'readers to share their thoughts and reviews of books read on [their] platform.' This means you can write and send to them a short review on an interesting book you just read. In return, you'll enjoy ten percent off on any book of your choice you buy from them that month.
#5 Laternabooks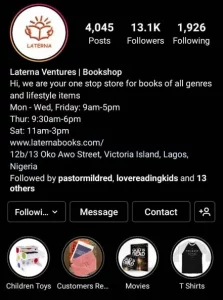 Established in 1996, Laterna Books is a book vendor located in Lagos but with a wide online reach and nationwide delivery of 24-72 hours. They are 'a leading literature importation, distribution and marketing organization in Nigeria,' with vendors in 33 states of Nigeria including Abuja.
They stock all genres of books including Bibles, business books, Christian books and children's books. But that's not the only thing they sell. They also have your children and loved ones in mind, as you can get from their online store, 'Educational Toys, Gift Items, Gift Bags and Wrap, Home and Office Fragrances.'
Another thing that stood Laterna Books out as an online bookstore was that they used to have audiobooks you could buy and download straight to your mobile. But that's no more available on their website.
#6 Vog and Wod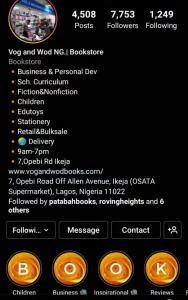 Vog & Wod has an online bookstore as well as a physical bookshop in Lagos. Even though they stock other books including fiction, nonfiction, poetry collections and literary materials, they're more interested in children's books and other educational materials for kids.
Based on the information on their website, Vog and Wod Books was founded in 2008 and they have more than 6000 'high-quality products' in their store. Their physical bookstore is located at 7, Opebi Road, Ikeja, Lagos.
#7 Patabah Books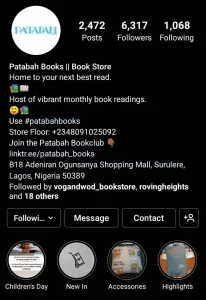 Patabah Books has its physical office located at Surulere, Lagos, while its online store is located here.
They have a collection of books that cut across all genres and categories, listed on their product page. They also stock stationery and gift items.
They have free shipping on all orders above N10,000. They also have a 100% money-back guarantee that enables you to get your money back in case you're not happy with the product you get. For them, it's all about the customer's satisfaction.
#8 PAGE Book Connoisseurs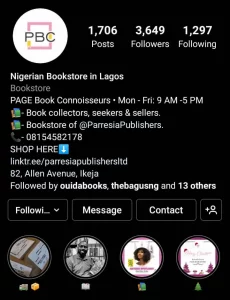 PAGE Book Connoisseurs is based in Ikeja, Lagos, but has an online bookstore that delivers to every part of the country. It is the bookstore of Parrésia Publishers Limited, a traditional publishing firm in Lagos.
They have different genres of books in their catalogue, including poetry, literary fiction, Nigerian fiction and Nigerian nonfiction.
One thing that would interest you about PAGE bookstore is that they have a link on their website that allows you to request a book not readily available in their store. This means that if there's a book you've been longing to get but can't seem to find anywhere online, you can make a request for the book on their website and they'll get it for you.
Conclusion
If you visit the websites of all the bookstores listed above, you'll discover that they're e-commerce websites that enable you to shop, search for items, add items to cart and proceed to checkout where you can input your address and pay for your order.
It is also good to note that this list was not arranged based on which bookstore is the best and which one is the worst. It is arranged based on the number of followers each bookstore has on Instagram. That's why they're each accompanied by a screenshot of their Instagram page.
That is not to say in any way that bookstores with less Instagram followership are less in status to those with more followership. And I'm sure I've been able to prove this by linking each bookstore to their website so you can visit and make your choice based on what they offer.
Finally, if you know a bookstore in Nigeria with more followership than any of the bookstores mentioned here, or bookstores you believe should be recognised on this list, notify me in the comment and I'll make necessary adjustments.
Stephen Wholesome